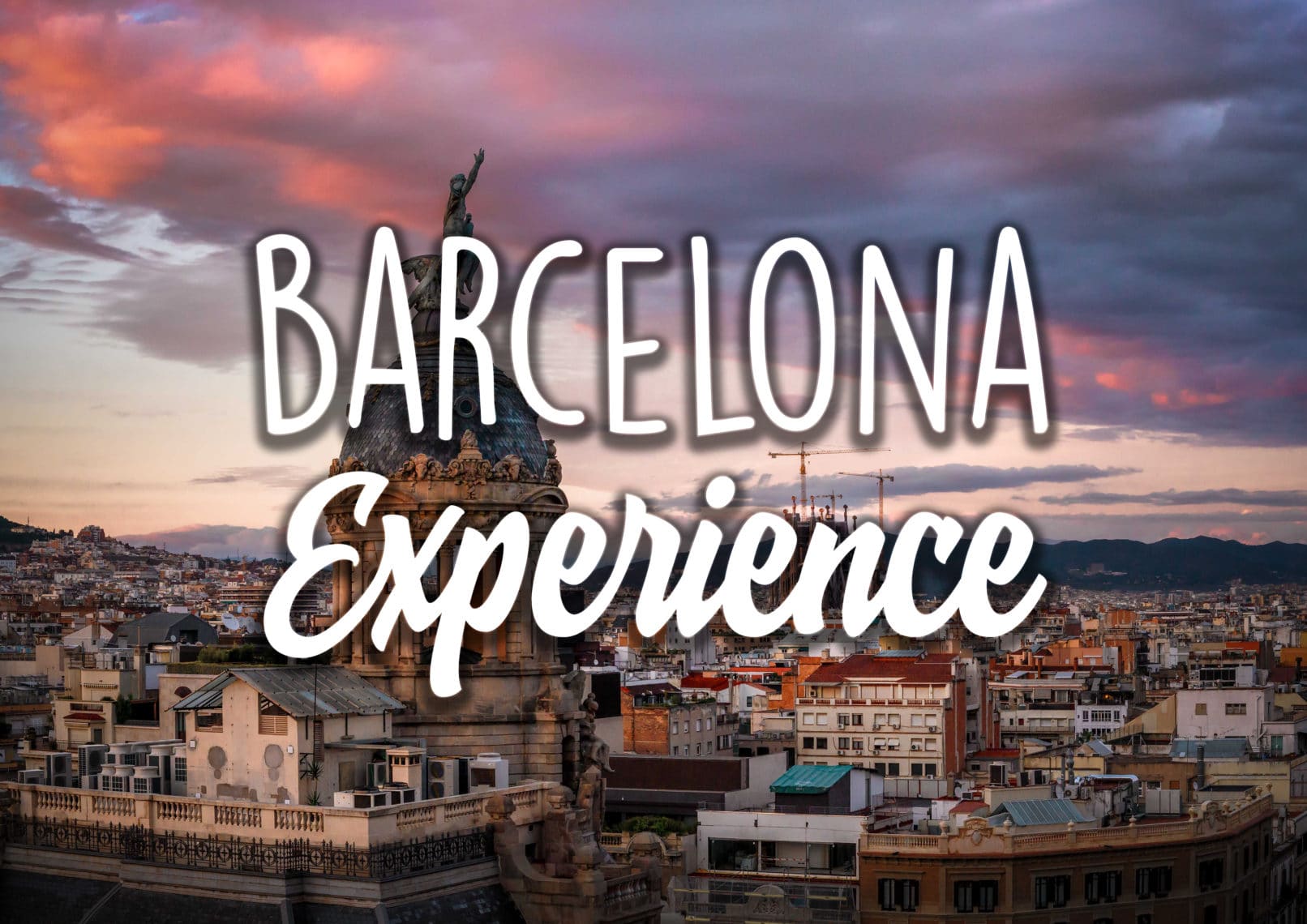 Invited to Barcelona by the tourist office VisitBarcelona, I discovered some wonders in this city where life is so good. Wine, architecture, helicopter flight, everything to spend a great weekend!
I came to Barcelona in 2017 for the opening of the Ferrari Land amusement park in PortAventura. I had taken the opportunity to walk around the city but I didn't take many pictures of it at the time. This time I enjoyed it, and I loved it! This article summarizes a weekend of discoveries but I will not fail to share with you all my upcoming adventures now I live here! 😉
VisitBarcelona has created a concept: two local photographers receive two French photographers to share the "Barcelona Experience". This weekend also aims to discover new places, not the most famous ones, so we did not visit the Sagrada Familia or the Pedrera. This is how my friend Jean and I experienced Barcelona during a weekend.
 La Familia Torres 
Wine, deli and cheese lovers, hang in there! Familia Torres is a wine estate located a few kilometers from Barcelona. They have been passing on its know-how from generation to generation since 1870. It is also with passion and emotion that they share their knowledge of wine with wine lovers like you? and me!
We spent half a day discovering the estate and family history, accompanied by a guide who answered all our questions. We first visited the Mas La Plana vineyard, or at least part of it because it is huge! I noticed that several rows of vines started with a rose bush. It turns out that roses are very sensitive flowers, they are affected by the same diseases as vines, but before the latter. This allows the winegrower to detect the first possible signs of disease on the rose bush, to intervene and save his harvest.
We had access to a room in which there were huge fermentation tanks. Our guide explained to us how and in how long the wine is produced. Then we discovered the place where the wine is vinified and preserved to foster ageing. We observed the barrels containing the best vintages behind the windows of a sealed room, with a sound & light athmosphere.
To finish the visit, we tasted four wines produced in the estate: a white wine, two red wines and a cava. Cava is to Spanish what champagne is to French. This tasting was accompanied by several types of Iberian hams to accompany each wine… Yummy!
This place is really great! The family is invested in the preservation of nature, whether in the wine production process or in many small details of everyday life. I particularly appreciated the little train we travelled on to move around the property. It works with solar panels! I enjoyed the discovery so much that I returned 2 months later to live the experience again with family!
The domain is accessible by train + taxi, or by car about 45 min drive. For more information, you can visit the Familia Torres website. There are different options for the activity, take a look at the site. You can also book this activity with Barcelona Tickets. Good to know: it is possible to ask for a French or English guide. My first visit was in English, the second one in French!
 Coktail Experience 
After the visit of the Familia Torres, we have an appointment in a restaurant and cocktail bar Aguelo013 to learn how to make our own cocktails! The place has a crazy charm, the stone walls and ceilings give the impression of being in another era! The team is very friendly. A place where we would breathe good mood!
We spend an hour investing ourselves in the workshop and create 4 cocktails each with a lot of application. Dose, freeze, check, pour… We had fun in front of our "teacher" but with much less dexterity than him! Of course we then test our creations. Some cocktails were much stronger than others, personally I only emptied one glass!
All I have to do now is find out my cocktail kit and have fun making it at home!
You can book this activity on BarcelonaTickets in the courses and workshops section.
 Hotel NH Calderon 
During this weekend, Jean and I stayed at the NH Calderon hotel. We both had a fantastic view from our room! The place is superb and the staff is always happy to help.
If you plan to spend a few days in Barcelona, I advise you to have a drink at the hotel's rooftop bar to admire the view of the whole city. My favourite point of view is the one where you can see a great alignment with the Sagrada Familia and a well-known building in Barcelona "El Unión y el Fénix".
 Helicopter flight 
The next day, we continue the adventure by starting with a good breath of fresh air! We are going to CatHelicopters for a helicopter flight (as its name suggests)!
While waiting for our tourn, we have the opportunity to watch other people get into a helicopter and take off. The excitement is rising! We are equipped and informed of safety instructions. Then we take our seats inside the helicopter. The flight lasts a few minutes, we follow the coast near the W hotel. The advantage is that we each have the same view on both sides of the helicopter, once the coast and once the sea. If you know me already, you know I like height. Seeing Barcelona from the sky is really a cool experience! And I have a great memory of it thanks to Jean's picture!
If you want to an helicopter flight in Barcelona, I advise you to take a close look at CatHelicopters' offers. There are several more or less long flights, which allow you to fly more over the city to see the Sagrada, or to admire the famous Montserrat mountain range. You can book this activity on BarcelonaTickets.
 Palau de la Música catalana 
After this beautiful flight, we visit the Palau de la Música Catalana. It is a magnificent place that reminds me a lot the Opéra Garnier in Paris.
The balconies and rooms are decorated with multicoloured mosaics, a Spanish spirit that is often found in the city's landmarks. I think all these colours put you in a good mood! The main room inside has a breathtaking architecture! The stained glass windows, the sculpture, the details of the gilding, the lines that guide the eye in this mixture of red and gold… I love it! I love it! I even had fun making a panorama of 12 photos to represent the vastness of the space when you stand upstairs on the balcony.
If you want to visit this magnificent palace, I advise you to always stay at the head of the group to be able to take pictures without anyone on it. 😉 You can book this activity on BarcelonaTickets.
 Barcelona, a photogenic city! 
These two days were clearly not enough to satisfy our desire to discover this city! We took advantage of a free time to visit the Gothic district, very famous in Barcelona. Early in the morning, there are not many people. I had the chance to take pictures of a place I really like, in the street "Carrer del Bisbe". I discovered this street during my first visit to Barcelona in 2017 but it was impossible to take a decent picture with the crowd rushing in during the day. This time I got it, and with a nice morning light!
Now that I live in this city, I'll share with you places to discover: pictures, activities, restaurants ! Give me a few months and I'll write an article that I'll update on the go.
Many thanks to VisitBarcelona for this great adventure! I suggest you to review this weekend and all the activities in this video below. The tourist office made it to immortalize this meeting between French and local people!
I hope you enjoyed this article! Feel free to leave a comment to give me your opinion, tell me if you know Barcelona, and share places that you particularly appreciate!
You can follow my adventures and new photos live on Instagram! See you soon for new discoveries!
Aurore